Properties

Related sites:
Other Close-ups from 1944:
Modern
Close-ups
(courtesy of Multimap.com):
USAAF aerial photo of Carter's Hill and Winnersh, dated 8th March 1944, ref. 5045, by permission of National Monuments Record, English Heritage. Use the scroll bar to see the full width of the view.
This close-up shows the southern tip of Woodley where it meets the River Loddon. In 1944, Loddon Bridge Road, Colemansmoor Lane, the Ridgeway and Norton Road were the main built-up areas, with a long-since disappeared road heading northwards parallel to the South-Eastern Railway line. Every square inch of the back gardens seems to have been devoted to growing vegetables.
The 'George' Inn stands in isolation at the Loddon Bridge, and there is no need for traffic lights at the road junction. To the south there is a big gap before the first house on the Winnersh side. On the other side of the railway, there is only one property; the rest is just meadow land.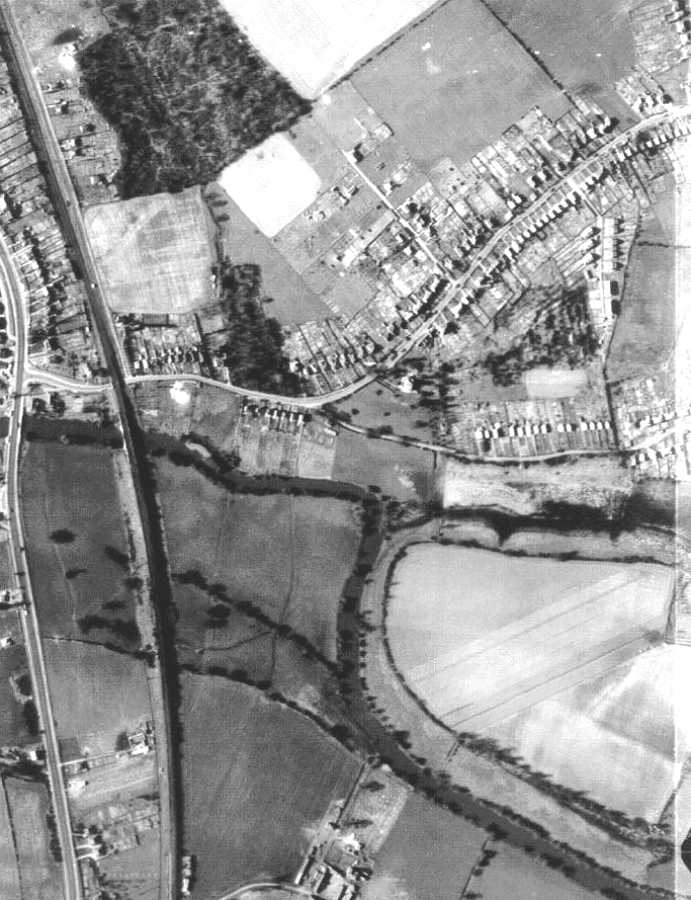 The A329(M) and the Winnersh motorway exit changed this area for ever - see the main article for a detailed discussion. Here's an idea of the built-up area today, super-imposed on the same aerial view: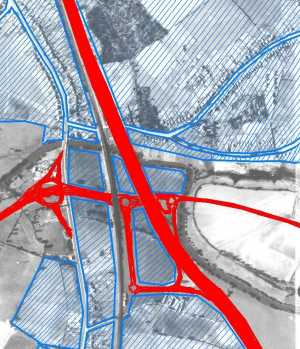 Back to main Aerial photo of Carter's Hill and Winnersh
Back to main Aerial Photo Page