Memories

Related sites:
On 29th January 1919, it was announced that a Reading Branch of 'Comrades of the Great War' had been formed, and another was planned for Wokingham.
On March 15th 1919, it was announced that the Reading War Hospitals Supplies Dept. on Duke Street was to close, having completed its task.
Caring for the Wounded
Throughout 1915 there were reports from the Front, in particular from the Royal Berkshire Regiment. Casualty lists appeared more or less weekly, but were not grouped by the servicemen's place of residence. Rolls of Honour listed those who had gone to War from different towns and villages, but Arborfield seemingly wasn't reported.
By mid-Spring, preparations were in hand to receive large numbers of wounded at Reading Station and to take them to various hospitals in and around the town. There had been collections and appeals for the Voluntary Aid Transport unit of Berkshire Red Cross, who took part in an exercise in April 1915.
April 24th was the first issue to mention 'Reading's Great War Hospitals Care and Comforts Committee', and the first train-load of casualties arriving at the railway station.
On May 8th, the second train-load had been received, numbering around 50 'cot' and 50 'chair' cases. The Committee gave a Press briefing in mid-May, when between 600 and 700 casualties were being treated in four main centres:
The first was the former Poor Law Institution in Oxford Road (labelled 'Reading No. 1 Hospital', but later to become known as the Battle Hospital).

The second was the Royal Berks Hospital, then

'Struan House' in Maitland Road, and

'Cliffe House' in Caversham.
On 22nd January 1916, there was a notice about the success of the Berkshire Voluntary Aid T
ransport Service, coupled with an appeal for more donations. A news article elsewhere in that issue reported that, since its formation in March 1915, over 14,000 sick and wounded soldiers had been carried in its 20 ambulances and cars. It was claimed that the 13th Berks V.A.D. can clear a train of 150 cases, half cot (stretcher) and half sitting cases, in an hour.
By early December 1916, there were nearly 2,000 wounded soldiers in Reading, not to mention those in nearby Bearwood, Wokingham or Eversley. The Care and Comforts Committee appealed for funds to avert a financial crisis, as shown here.
The Royal Berkshire Hospital faced a financial crisis in 1917, and there were suggestions in the March 3rd issue that part of the hospital might have to be closed. Was this voluntary institution being funded properly for its extra burdens?
Arborfield and Barkham did their bit to help out, as this snippet from May 1917 shows: 'As the result of the Arborfield and Barkham Schools Jumble Sale, held in April last, Mrs. Sturges was able to send £20 5s. 6d. to the Royal Berks Hospital.
On October 27th, the Appeal Fund for the Royal Berks Hospital had already raised £12,000, but another £12,000 was still to raise.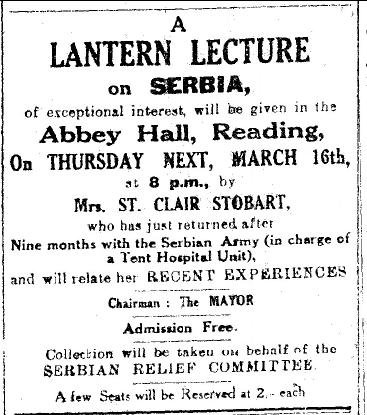 Local people were interested not only in the welfare of the wounded at home, but also in mainland Europe, as this notice of a Lantern Lecture from March 11th 1916 indicates.

There were almost weekly announcements from the local branch of a national scheme headed 'EGGS FOR WOUNDED SOLDIERS AND SAILORS.':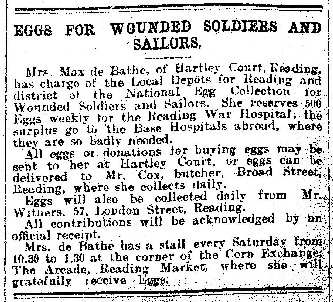 Mrs. Max de Bathe, of Hartley Court, Reading, has charge of the Local Depôts for Reading and district of the National Egg Collection for Wounded Soldiers and Sailors.

She reserves 500 Eggs weekly for the Reading War Hospital; the surplus go to the Base Hospitals abroad, where they are so badly needed.

All eggs or donations for buying eggs may be sent to her at Hartley Court, or eggs can be delivered to Mr. Cox, butcher, Broad Street, Reading, where she collects daily.

Eggs will also be collected daily from Mr. Withers, 57, London Street, Reading, and the Arcade Refreshment Bar.

All contributions will be acknowledged by an official receipt.

Mrs. De Bathe has a stall every Saturday from 1:30 to 1:30 at the corner of the Corn Exchange, The Arcade, Reading Market, where she will gratefully receive Eggs.
After Armistice Day on November 16th 1918, the Mercury reviewed the scheme. Started in November 1914, the local branch of the Egg Fund had collected 400,000 eggs, at 2,000 a week. It continued to place weekly appeals, well into 1919.

From August 18th 1917, we learn of another hospital close to Arborfield: 'Eversley Military Hospital held a fete on Wednesday, which in spite of adverse storms of heavy rain alternating with brilliant sun, proved a great success.
'The unit started on October 25th 1914 as a part of Yateley Military Hospital, with 10 beds, which was quickly increased to 30.
'In time, it became a separate organisation, and the whole house was taken over by the hospital, with 40 beds.'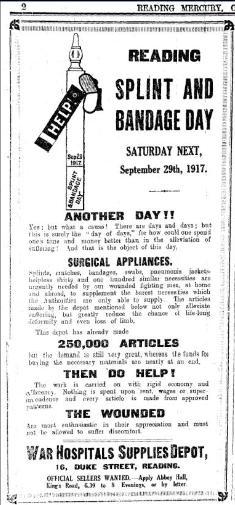 September 29th 1917 was declared to be
'Splint and Bandage Day',
as shown in the advert on the left.
Click here to see the full text.

From February 22nd 1919 onwards, the 'Mercury' reported on its scheme:
THE DISABLED – MEN WHO ARE SEEKING EMPLOYMENT
On the first day, 35 cases were listed, of which this is a typical example:
'Lost right arm, right eye, and little finger of left hand;
carter by trade; light suitable work wanted.'
Disabled Lists appeared weekly:
| | |
| --- | --- |
| April 19th: | 81; |
| May 3rd: | 86; |
| May 24th: | 133; |
| June 7th: | 127; |
| June 21st: | 132; |
| June 28th: | 136; |
| July 12th: | 137; |
| August 2nd, | 149; |
| August 30th, | 151; |
| October 11th: | 179. |
In the October 11th issue, the scheme was referred-to as the 'Mercury List', and an accompanying article listed the 36 local firms and organisations that had so far employed men from the list. The numbers increased further:
| | |
| --- | --- |
| October 18th: | 189; |
| November 8th: | 211. |

The Jul 19th 1919 issue of the 'Mercury' reported that Struan House Auxiliary Hospital was closed the previous Tuesday. The Berks V.A.D. connected with the hospital was demobilised, the last to do so.