Memories

Related sites:
A report on October 6th covered the Reading Splint and Bandage Day.
It revealed that £400 had been raised from the street collection alone, and the overall total was £751.
Splint and Bandage Day - 29th September 1917
This Advert appeared on the 22nd.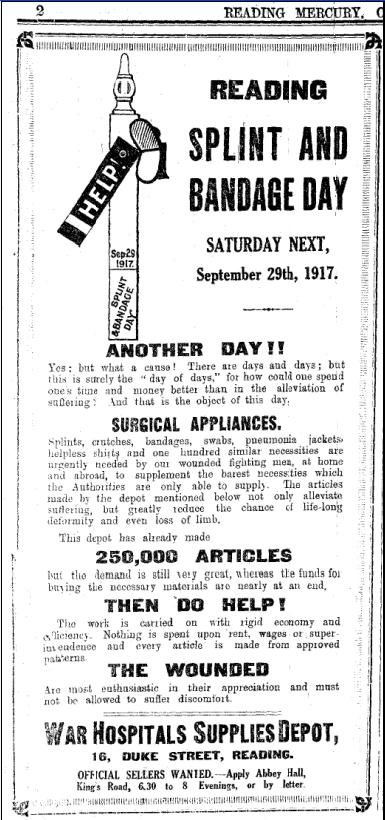 Text of Advert:
READING SPLINT AND BANDAGE DAY
SATURDAY NEXT,
September 29th, 1917.
ANOTHER DAY!
Yes; but what a cause!
There are days and days;
but this is surely the "day of days," for how could one spend one's time and money better than in the alleviation of suffering?
And that is the object of this day.
SURGICAL APPLIANCES
Splints, crutches, bandages, swabs, pneumonia jackets, helpless shirts and one hundred similar necessities are urgently needed by our wounded fighting men, at home and abroad,
to supplement the barest necessities which the Authorities are only able to supply.
The articles made by the depot mentioned below not only alleviate suffering, but greatly reduce the chance of life-long deformity
and even loss of limb.
The depot has already made
250,000 ARTICLES
but the demand is still very great, whereas the funds for buying the necessary materials are nearly at an end.
THEN DO HELP!
The work is carried on with rigid economy and efficiency. Nothing is spent on rent, wages or superintendence, and every article is made from approved patterns.
THE WOUNDED
Are most enthusiastic in their appreciation and must not be allowed to suffer discomfort.
WAR HOSPITALS SUPPLIES DEPOT, 16, DUKE STREET, READING.
OFFICIAL SELLERS WANTED.
- Apply Abbey Hall, King's Road,
6.30 to 8 Evenings, or by letter.