INQUEST ON BUTLER OF ARBORFIELD HALL
(From Reading Mercury, 19th May 1917)
An inquest was held at the Gardener's Cottage, Arborfield Hall, on Friday last week by Mr. R. S. Payne, county coroner, on the body of John Alfred Dymott, whose body was found in the Loddon on the 9th inst. – The widow stated that deceased was 48 years of age, and had been employed as butler at Arborfield Hall for over 25 years. He sometimes gave assistance to Mr. Whatley, the estate carpenter, and in the course of his work was on the river.

Deceased could swim a little, but had not done so lately. He was not disposed to fits of giddiness.

About 8 a.m. on Wednesday, when he left home to go to breakfast at the Hall, he seemed all right. He seldom came back in the middle of the day, and she did not expect him until evening. He was a healthy man. He had nothing to worry him, so far as witness knew. -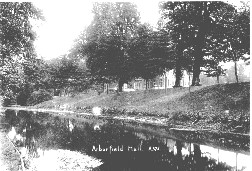 John Whatley stated that deceased had been helping him to do some fencing down by the river, and get some timber out of the river. He was with deceased until 1 p.m. on Wednesday, when deceased got into a punt to go to the Hall for his dinner; this was about a quarter of a mile from the Hall by bridge on the Reading Road. He had one punt pole. Witness saw him start, and he was then all right.
He had often been in a boat by himself, and was up and
down the river on the previous day. There were a few old pen [?] hurdles in the punt; they lay in the bottom of the boat, and were not a heavy load; they could not move. Deceased said, "I shall see you at 2 o'clock". He intended to go to the Hall, leave the boat, have his dinner and walk back.
When deceased did not return witness went on with his work, as he thought Mrs. Hargreaves might have employed him at the house.
About 6 p.m., witness was informed he had not been to the Hall for dinner or tea, and witness afterwards took charge of the punt when the body of deceased was recovered from the river. Deceased was a steady, sober man. Deceased's cap was found in the bushes a few yards from the punt; it was wet. The punt was found ten or twelve yards from the body.
John Powell, the lodge keeper at Arborfield Hall, said he heard nothing in the way of a cry or a splash. George Richard Kersley, of Hall Farm, Arborfield, and P.C. Prior spoke as to the recovery of the body. Deceased's watch had stopped at 1:20. Deceased was wearing dungaree overalls, and cycle clips on his trousers.
The jury returned a verdict of "Accidentally drowned in the River Loddon through falling out of a punt," and the foreman (Mr. A. F. Scrivener) expressed their sympathy with the widow.

Back to WW1 Local Life Page